I have realized that being a parent is more work than I anticipated. I knew it was work, but this has taken me by surprise, so to speak. I feel like an extended babysitter (!) more than a mom. I haven't figured out why that is. I love K, but the euphoria that everyone talks about hasn't hit me quite yet. Maybe because euphoria = relaxation and K has been anything but. LOL. He's not a bad/fussy baby-just work. Welcome to Real Parenthood.

PSA for future parents: Your "routine" in life (from cleaning the dishes, laundry, going to the store, hopping in the car to get gas, sleeping, choosing which outfit to wear to work) is no more! You have no routine. I knew this too before getting pregnant, however I didn't realize to what extent. When I pick out what to wear in the morning, I have to make sure I have 2-3 other options in case I get spit up on or poo'd on. Routine, no such thing anymore.

That takes me to the title of my blog. I totally feel like I'm just crashing through things as I learn how to be a parent. I can only hope that I'm not scarring K for life as I try to figure things out.

J went to work today for 1/2 day. He did okay. We can't ask for anything more than that. Progress is slow, but he's getting there. We're hoping he doesn't have to go in for another epidural shot of the anti-inflammatory. His boss has been very understanding throughout this entire time. Thankfully!

K went to daycare for the first time today. I hope all is well. B hasn't called saying anything is wrong or asking about anything. I'm grateful for that.

Speaking of K: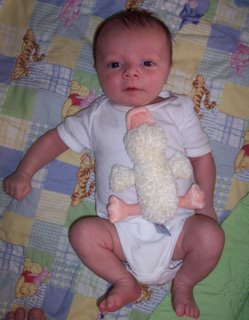 With that, I'm back to work.

PS - It's good to have something upbeat to blog about, even if it's somewhat subdued.